Fundo Vale holds meetings with ecosystem partners involved in the habitat protection and restoration components of Vale's 2030 Forest Goal.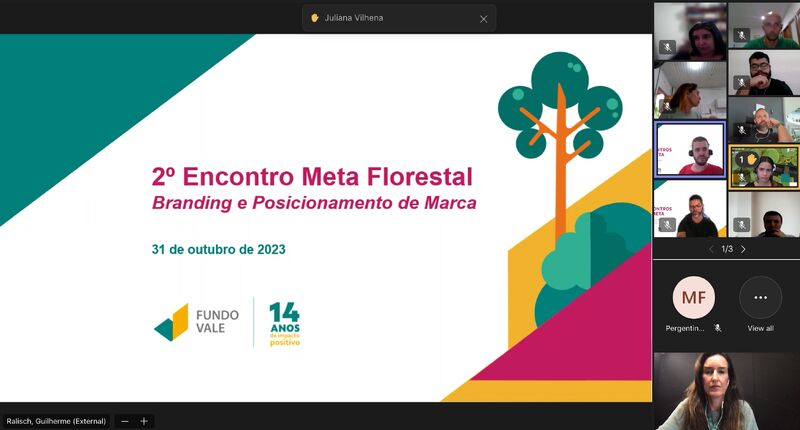 In the habitat restoration component of Vale's 2030 Forest Goal, we are tracking the growth of social and environmental impact businesses, which have ended up forming an ecosystem of partners acting in coalition. In order to strengthen these connections and foster the evolution of each of these initiatives, during the second edition of the Forest Goal Meeting we brought in some experienced partners to explain the importance of brand building for the success of a business.
Isabel Sobral, partner and director of ESG and sustainable business at São Paulo advertising agency FutureBrand, was invited to share inputs on brand building and brand value. She shared her experience of developing several positive impact brands related to the Amazon in recent years. She emphasized the importance of businesses knowing how to present themselves to the world and connect with society. In other words, in addition to the quality of products, brands must convey the set of attributes and benefits that their business offers in order to win over customers.
Jônatas Machado Ibernon, commercial director of Café Apuí, a project supported by Fundo Vale, presented a case study on the brand, talking about how the branding strategy applied contributed to sales and communication. He outlined the history of the company, which emerged from an Idesam project in 2012, before taking a step forward in 2019 and turning into a company to buy coffee producers' output and serve as a marketing operator.
"We wanted something that would mark this new moment and we opted for a rebranding, to make it easy for people to understand the brand. We wanted to express the narrative of the Amazon not only in texts, but also through colors, drawings and shapes. We did this in conjunction with FutureBrand and this change helped us reposition our products in the market. We raised our prices without much resistance from customers, which indicates the perceived value in our products, thanks to the new brand," he said.
According to him, spaces for exchange like this one provided by Fundo Vale are important, "because each venture has its own stories and experiences, so you have a learning environment in which everyone shares different visions, achievements and challenges."
More Forest Goal Meetings will be held regularly between now and 2030.